Almond Jello with Syrupy Cherries
Far from the jiggly, neon colored jello of the 1970's, this cloud colored gelatin dessert shows up on Chinese restaurant Dim Sum carts across America. Originally made in southern China by extracting liquid from apricot kernels (Chinese almonds), this refreshing, no fat dessert remains a popular treat in Hong Kong, Indonesia, Japan, and China. Something about the dreamy almond jello mixed with an abundance of tropical fruits creates culinary magical realism. The tart, small, purple passion fruit has a plate date with the mild tasting dragon fruit. Syrupy cherries, stems in tact, beg to be lifted and popped into the mouth. Lychee fruit, unassuming, golf-ball sized & dinosaur skinned, is a grape textured addictive tropical fruit. Its vermillion colored bumpy skin and translucent creamy flesh deliver a lovely floral hint with a perfectly balanced sweet and tart bite. Papayas, mangoes, and kiwi all play together nicely. For those less adventurous ethnic food eaters, this dessert provides the perfect mellow jumping off point....for those experienced global eaters, hide the spoons--this fruity jello has a way of disappearing without a trace.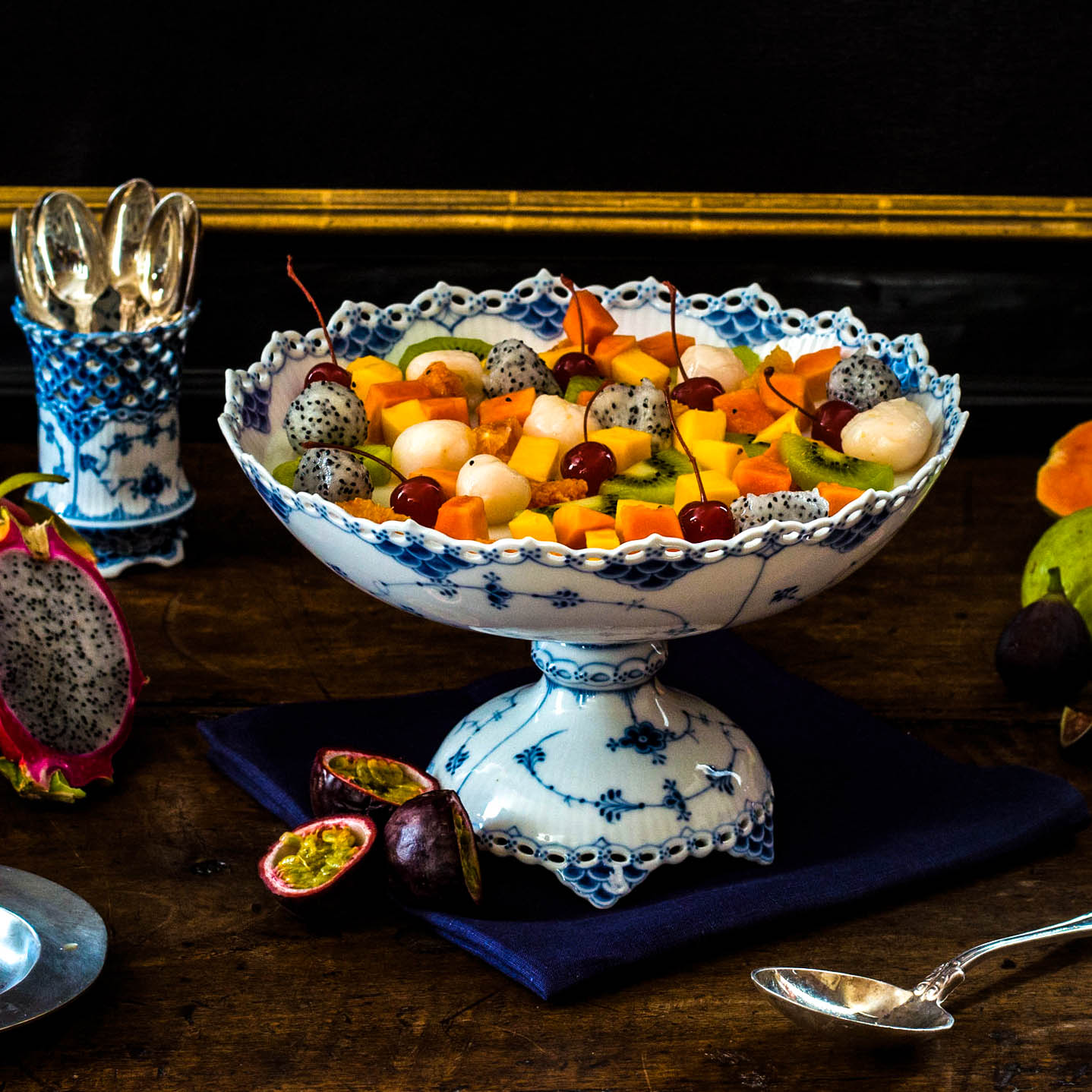 According to the Chinese zodiak, those fortunate individuals born in 1959, early 1960, or in 2019 from February 5th until the next lunar year, inherit happiness. While lacking in romantic inclinations, these social butterflies form long lasting friendships with all walks of life. Some famous pigs include Henry VIII, Ernest Hemingway, Alfred Hitchcock, Woody Allen, Hillary Clinton, and Ronald Reagan.
Almond Jello with Syrupy Cherries
kitchen notes
Raise the bar of this simple dessert by pouring the almond jello mix into individual dishes before chilling to set. The syrupy cherries may be made up to one week in advance. Only use whole milk or the jello will fail to set properly. Any combination of colorful fruit works--papaya, mango, passion fruit, kiwi, guava, dragon fruit, mandarin oranges, raspberries & figs, or even a mix of melons. If using canned lychees, toss its juices with the other fruits for natural sweetening. Avoid pineapple (unless placed moments before serving), as its enzyme bromelain breaks down the gelatins amino acid building blocks and gelatin fails to set, or turns to liquid if already set. Substitute stem-on maraschino cherries free of artificial colors, flavors, corn syrup preservatives or dyes The jello may be made up to 2 days in advance--top with fruit just before serving.
INGREDIENTS
3 1/3 cups boiling water
4 envelopes (.25 ounce each) Knox gelatin
1 1/2 cups granulated sugar, divided into 1 cup & 1/2 cup portions
3 tablespoons pure almond extract
1 cup cold whole milk
12 lychees, halved and pitted, or 1 can peeled lychees (reserve juice)
1 small can mandarin oranges, drained
1 mango, diced
1/2 cup papaya, diced
1 pound red or Rainer cherries, halved & pitted
1/4 cup cold water
1 vanilla bean seeded & scraped
A large strip of lemon peel, thin outside layer only
DIRECTIONS
1. Put the water in a POT and bring to a boil.
2. Pour the boiling water into a bowl and whisk in both gelatin packets. Stir until fully dissolved.
3. Add 1 cup sugar and gently whisk until dissolved.
4. Add the almond extract and stir until incorporated.
5. Add the milk and continue whisking.
6. Pour the mixture into an 8" D DISH and place in the refrigerator. Chill the jello for 2 to 3 hours, or until completely set.
7. To make the syrupy cherries, add 1/2 cup sugar, water, lemon peel, and vanilla pod and seeds to a MEDIUM POT. Simmer over medium heat for 4 minutes, stirring until the sugar dissolves. Turn off the heat and add the cherries. Let cool and if not using the same day, refrigerate.
8. When firm, top with the diced fruit, including the syrupy cherries (with or without their juices fine). Pass family style at the table.
SERVES 8