Baja Fish Tacos
A healthy diet should include fish as a weekly rotation and fish tacos often steal the show. This is an easy, inexpensive version utilizing cod because it is easy to find and costs significantly less than other species. To boot, the usual thickness of cod makes for lovely strips that hold their shape when moved from the baking tray to the serving platter. Why Baja? After some internet research, it appears that the lime crema makes it a dish typical of Southern California.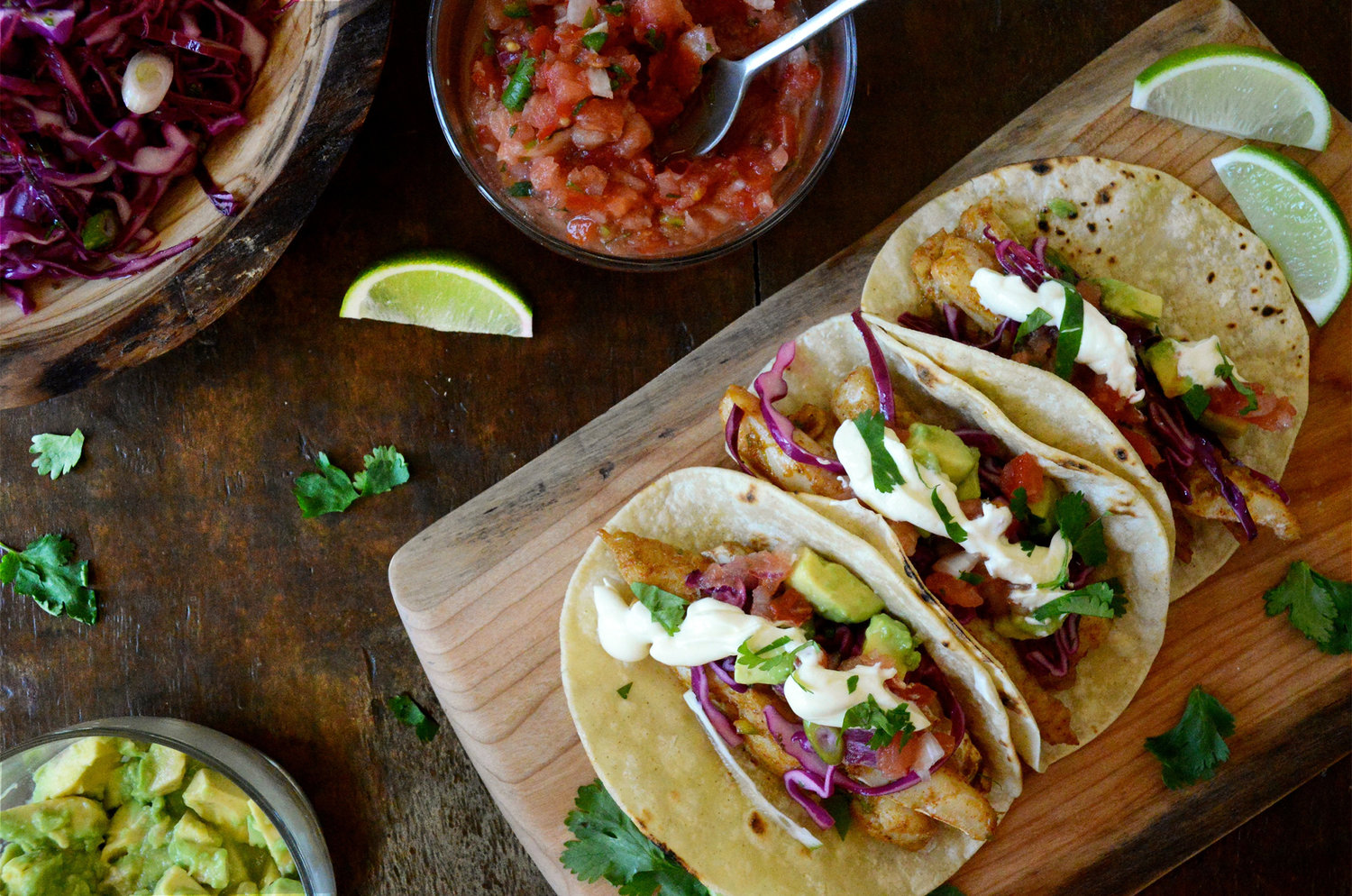 You know why fish are so thin? They eat fish.
Jerry Seinfeld
INGREDIENTS
for the fish
2 pounds cod fish, cut into strips
1/4 cup vegetable oil
Zest of 1 lime
3 tablespoons lime juice
1/2 serrano pepper, finely minced
2 cloves garlic, finely minced
1 1/2 teaspoon sea salt
1 teaspoon cumin
1 teaspoon ground coriander
1 teaspoon chili powder
FOR THE CABBAGE SLAW
1 small head of cabbage, finely shredded (cut out hard ribs, red or green fine)
Juice and zest of 1 lime
2 tablespoons honey
3 scallions, sliced very thinly on the bias, include some green part
1 jalapeno, minced (optional)
1/4-1/3 cup white vinegar (depends on how big cabbage head is)
1/4 cup vegetable oil
Sea salt
Minced cilantro, or micro greens
FOR MEXICAN CREMA
1/2 cup sour cream
1 lime, zest & juice
1 teaspoon sea salt
FOR SERVING
16 small corn tortillas--wrap 8 each in aluminum foil
2 avocados, diced and tossed with juice of 1 lime and sea salt
1 lime, cut into 8 pieces
Pico de gallo (optional)
DIRECTIONS
1. Season the fish all over with salt.
2. Combine oil, zest and juice of lime, garlic, Serrano pepper, spices and salt and marinate the fish on a half sheet baking pan. Put fish in the refrigerator until ready to bake.
3. Mix all the cabbage slaw ingredients together and leave on counter if using within 2 hours. If not, refrigerate until ready to eat.
4. Preheat oven to 350 degrees F. Put the fish and tortillas in preheated oven for 8 to 10 minutes.
5. Mix the sour cream, lime zest and juice together. Add the teaspoon of sea salt, mix and taste. Add additional salt as needed.
6. Taste the slaw for seasoning and adjust if needed.
7. Pass tortillas, Mexican crema, slaw, avocado, pico de gallo, and lime wedges to squeeze over the tacos.
SERVES 6
Kitchen Notes
Any white fish such as mahi-mahi, snapper, or halibut may be substituted for the cod.