Blackberry Mojito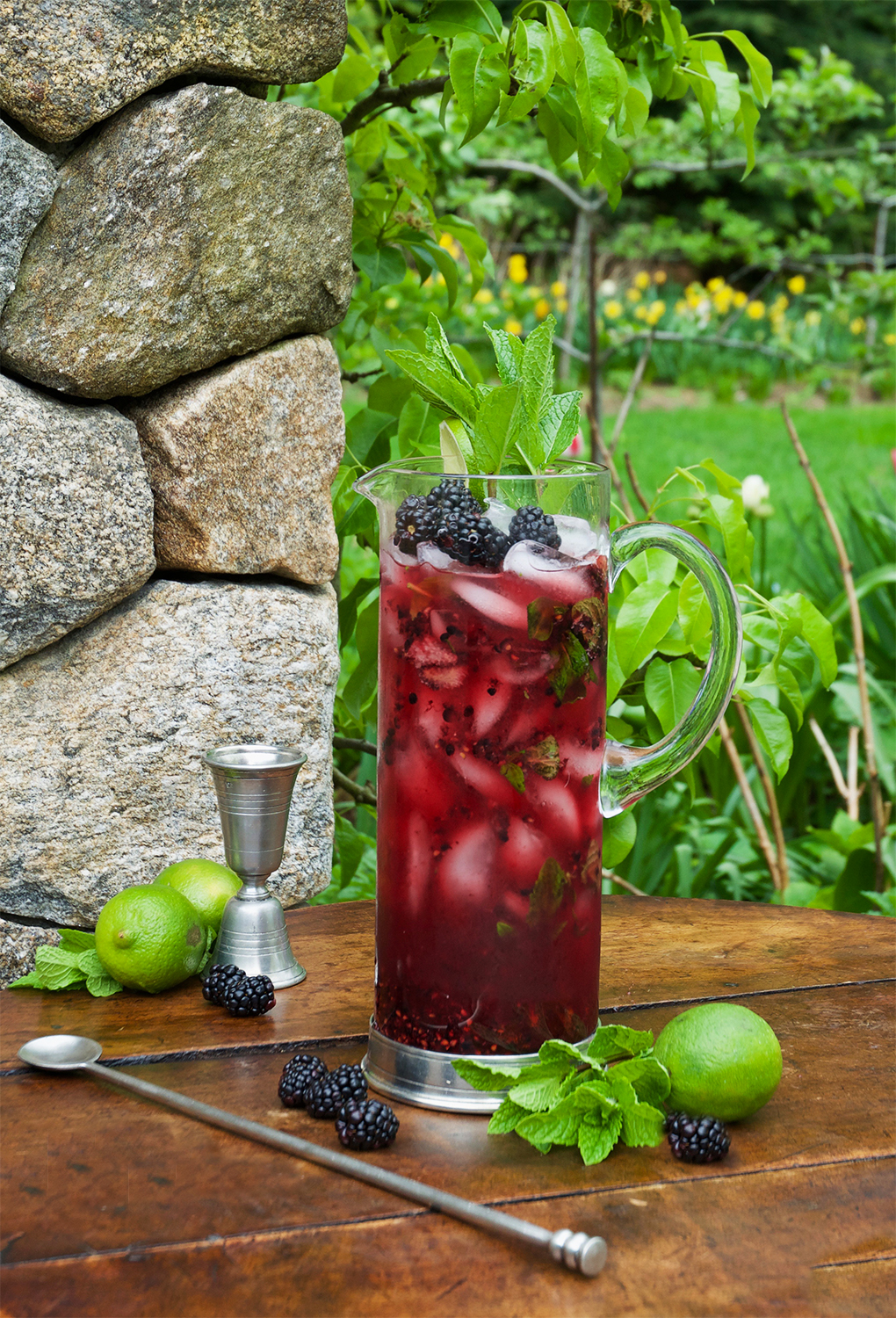 Originally a Cuban peasant cheap rum cocktail made drinkable with the addition of island staples-think sugar cane, limes and spearmint, the modern mojito is Havana's gift to American drinking culture. Whether it was invented by the treasurer hunter, pirate and British admiral Sir Francis Drake during his 16th century exploration of the Americas to combat scurvy, or by poor slaves in Cuban sugar cane fields seeking mojo (to be placed under a spell) makes for lively libation debate. Given the proclivity to combine fruit with rum to tame the potency of this fermented molasses spirit, a mojito made with muddled fruit allows for seasonal inspiration and variation. With a citrusy, slight sweet and tart taste, Blackberries merry well with the lime juice without causing this refreshing spritzer to become overly sugary. The all-star ingredient in this cocktail is rum. Like nearly anything consumed, the emphasis should be on quality. Volcanic mineral rich Panamanian soil produces the sugar cane used to produce the full bodied, slightly sweet and surprisingly fruity, Caña Brava rum--a perfect spirit for mojitos. Equally wonderful as a refreshing summer spritzer, aka a "nojito," without the alcohol or bitters, this spin on a Hemingway favorite may just inspire a journey to the Caribbean. ¡Salud!
Bar Notes
Prepare individual highball glasses with a slice of lime on the rim, a sprig of mint and 3 blackberries. Any high quality light rum may be substituted. If a sweeter cocktail is desired, leave out the bitters.
INGREDIENTS
3 ounces simple syrup
4 ounces lime juice
2 half pints blackberries
24 mint leaves (spearmint if available)
8 ounces Caña Brava Rum
8 drops Angostura bitters
Shaved, crushed or cubed ice
Sparkling water
Blackberries, lime slices, and mint bouquet for garnish
DIRECTIONS
1. Combine the simple syrup, lime juice, blackberries, and mint leaves in a glass. Muddle just until the mint releases its oils and the blackberries have been crushed down.
2. Pour the mixture into a PITCHER, add the rum and bitters. Stir and refrigerate until ready to serve.
3. Just before serving add ice to the pitcher and fill with sparkling water. Add a wedge of lime to the pitcher's edge, a mint bouquet and several whole blackberries for garnish.
Serves 4