Easter Madeleines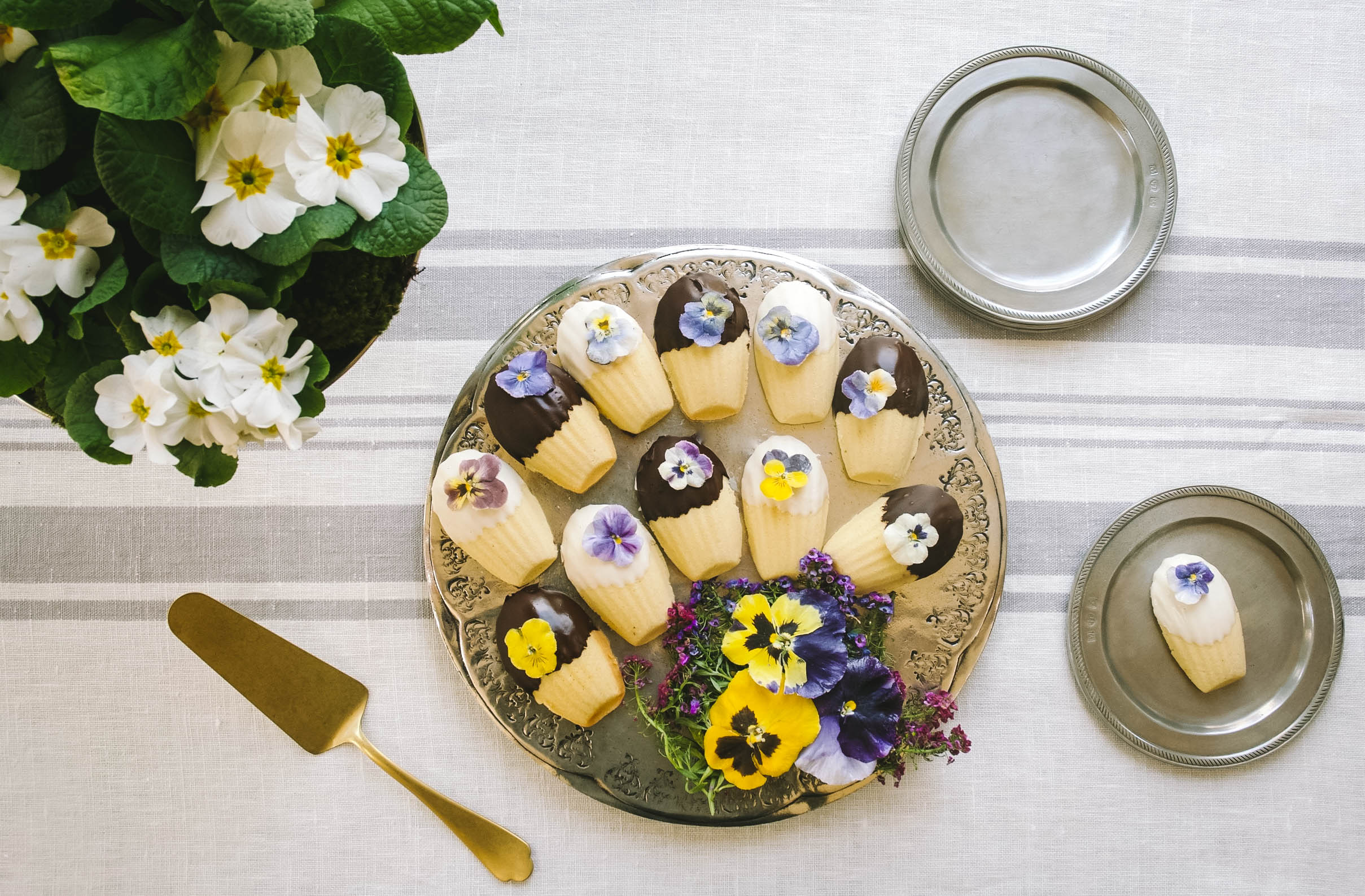 An "exquisite pleasure" made famous by the cookie lover and 20th century novelist Marcel Proust, madeleines may just be the perfect tea-dipping, spongey shell shaped miniature pound cakes to find a permanent place in a baker's repertoire. Light as a feather and delicate, this is more of a buttery mini sponge cake than a cookie. The classic scallop shaped cups of a madeleine pan are essential and the baking pan is easy to find online or in specialty cookware shops. The chocolate and floral embellishments in this recipe contribute to a lovely Easter spring themed tablescape.
INGREDIENTS
Vegetable oil cooking spray
2 cups cake flour
1 teaspoon sea salt
4 large eggs, plus 2 large egg yolks
1 cup caster sugar
2 tablespoons pure vanilla extract
2 teaspoons freshly squeezed lemon juice
20 tablespoons unsalted butter, melted and cooled
8 ounces Callebaut dark or white chocolate (or a combination, or any other high quality chocolate), cut into very small pieces, or use chips
24 candied violas or other edible candied flowers
DIRECTIONS
1. Preheat the oven to 375 degrees F. and lightly cover the madeleine pan with cooking spray.
2. Whisk the flour and the salt together in a bowl.
3. In the bowl of an electric mixer, beat the eggs and the extra yolk on medium-high speed until the eggs are frothy, about 4 minutes.
4. Add the sugar, vanilla and lemon juice and continue mixing until the batter is thick, about 4 minutes more.
5. Turn off the mixer and gently fold the flour into the batter. Then fold in the melted butter.
6. Carefully fill each of the scalloped molds in the baking pan to the top of the indented rim (but not over).
7. Bake for 5 minutes and then rotate each pan and bake for 4 to 6 minutes more, or until the cakes are golden and spring back when touched lightly.
8. Let the cookies rest and cool in the pan and then flip them onto a wire rack to cool completely.
9. Gently melt the chocolate in a double boiler. When melted, dip the top half of each cookie into the chocolate and lay the chocolate coated cookie on a parchment lined half sheet baking tray.
10. While the chocolate is still soft, press a candied viola into the center of the cookie and cool until the chocolate has hardened.
11. Arrange the cookies on a SERVING PLATTER.
MAKES 24 COOKIES
KITCHEN NOTES
Callebaut Belgian chocolate chips melt easily and are a high-quality, sustainably grown chocolate. Whole Foods carries tubs of this chocolate and edible candied flowers are easily found on-line. Store these cookies in a single layer for up to two days in an airtight container. The cookies may be frozen and thawed before dipping in chocolate. Make caster sugar (superfine sugar) by whirring in a food processor until sugar is ultra fine.