Girl Pizza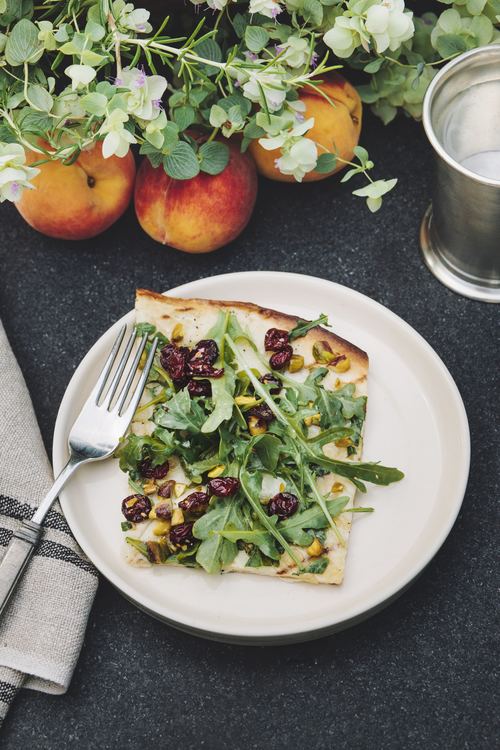 Any creative way to disguise salad as pizza deserves applause. Pizzas are a great way to use up bits of this and that in the refrigerator. Arugula is a tough sell at many family tables--that is until it becomes pizza. Dubbed "girl" pizza because teenage boys think teenage girls eat a lot more "rabbit food—greens" than they do. Nonetheless, these Girl Pizzas are served two at a time and eaten with the same gusto by all as a meat lover's pizza.
Kitchen Notes
Placing the flatbread directly on the bottom shelf of the oven results in a crisper crust. Any cheese combination may be substituted for the mozzarella and the provolone, but at least one should be a good melting cheese. A soft fontina is a good choice.
Ingredients
1 precooked wood grilled flatbread
3 cups baby arugula, washed & spun dry
Parmesan Reggiano cheese, shaved with vegetable peeler
1/2 cup dried cranberries
1/4 cup chopped unsalted pistachios
Fresh mozzarella balls, sliced thinly
2 slices provolone cheese ripped by hand into smaller lengths
Olive oil
1 lemon, cut in half
Maldon Sea Salt Flakes
Freshly ground black pepper
Directions
1. Preheat oven or grill to 500 degrees F.
2. Scatter flatbread with both cheeses. Drizzle lightly with olive oil.
3. Place the flatbread directly on the lower rack in oven (or turn off hot grill and place pizza on grilling rack—close the lid) for 2 to 3 minutes or until crust is the desired crispness.
4. While the crust is cooking, toss the arugula, cranberries, shaved Parmesan, and pistachios with a bit of olive oil and lemon juice. Finish with a few grinds of fresh black pepper and a sprinkling of sea salt.
5. Use long tongs to slide the pizza from the oven on to a pizza tray or SERVING BOARD. Top with the salad mixture.
6. Using a pizza cutter, slice the pizza in horizontal 2" slices and then slice the other direction for easy to eat small squares. Serve immediately.
SERVES 4