Grilled Lobster Tails with Wasabi Lime Butter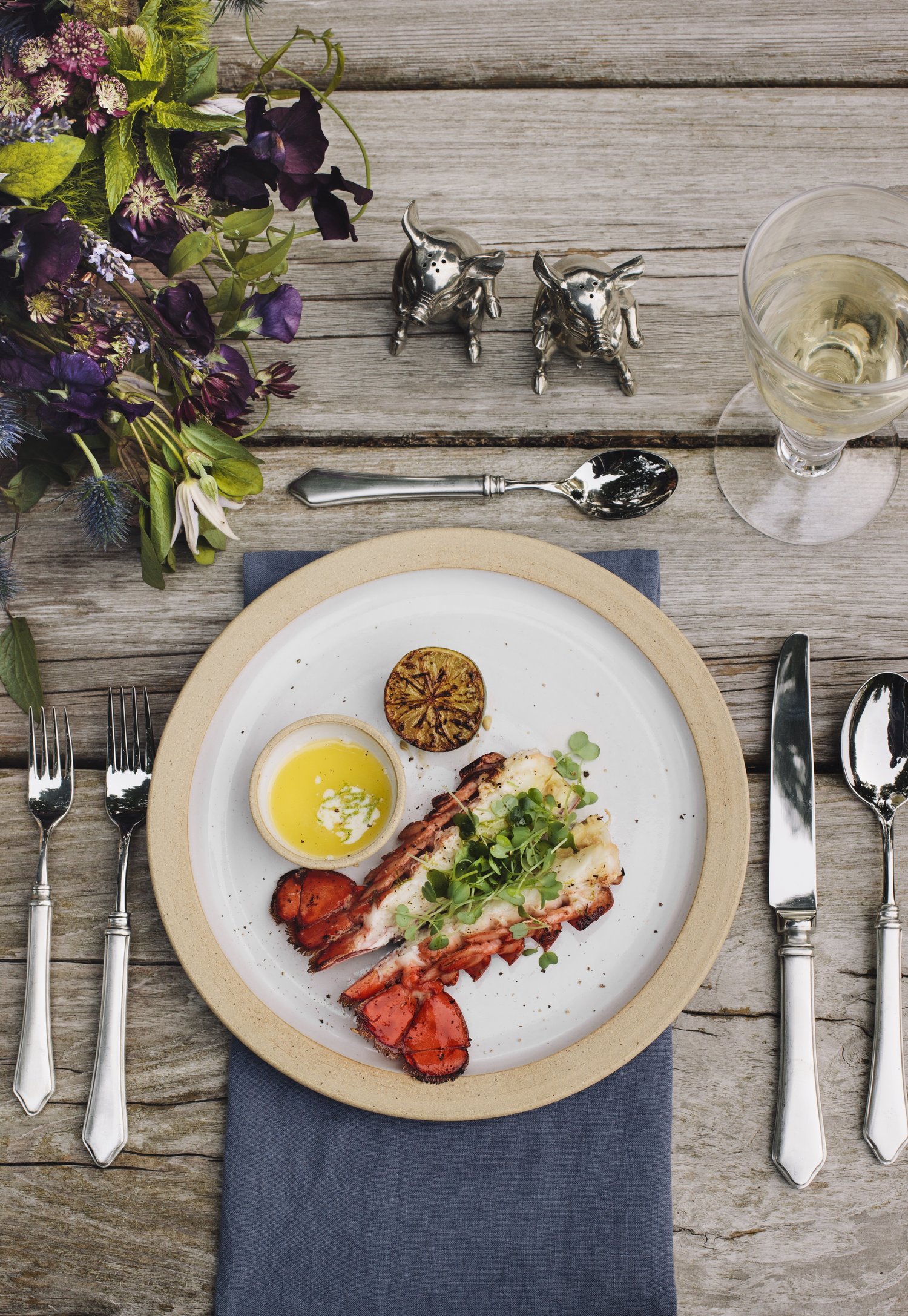 The 100 million year old, tender clawed, muscular tailed Maine lobster species was once fed to prisoners and considered a poor man's protein. Today, this cold water crustacean found from Maine to the Carolinas boasts a pricey delicacy reputation. It is one of the few foods that has been prepared the same way for hundreds of years whether served in a rustic New England clam shack, or in a fine dining establishment--boiled with a side of clarified butter. Some may argue, "why mess with something that works?" True. But for those never completely satisfied with the status quo, those wanderlust taste seekers, this recipe is dedicated to the culinary adventurous. While there is nothing quite like a juicy (euphemism for messy), soft shelled, freshly molted bright red summer lobster, this preparation is wonderful year-round--think surf & turf for a New Year's Eve, anniversary, or birthday celebration. Lobster tails also provide for an eating experience in which a bib is unnecessary. Grilling the tails makes for a quick and decadent feast. The wasabi butter plays brilliantly off the sweet meat and the kick will surprise and delight guests.
Kitchen Notes
Half lobsters rather than tails work beautifully in this recipe. The claws will take an extra minute or two of grill over direct heat to cook completely. Fresh wasabi may be found in Asian supermarkets. If  using wasabi paste, seek an additive-free version such as the one found alongside the sushi bar at Whole Foods. The wasabi butter may be made a day in advance. Add more wasabi for additional kick. 
Ingredients
6 lobster tails, 6 to 8 ounces each
16 tablespoons (2 sticks) unsalted butter, softened
2 tablespoons grated fresh wasabi, or 1 tablespoon wasabi paste
4 limes, 1 finely zested, 3 cut in half
1 teaspoon freshly squeezed lime juice (from zested lime)
Watercress or micro wasabi greens for garnish, optional
Maldon Sea Salt Flakes
Directions
1. Preheat a gas grill to between 400 and 450 degrees F., or if using a charcoal grill, build a medium fire and wait until coals turn gray.
2. In a mini-food processor, add the butter, the wasabi, lime zest, and juice and process until well combined. Mix in the sea salt flakes by hand.
3. Spoon the butter mixture onto a piece of waxed paper and roll the butter into a 8" L x 1 1/4" D log. Freeze the log of compound butter for at least 30 minutes and up to 3 days.
4. Bring a LARGE POT of water to a boil. Drop the lobster tails in the boiling water for 3 minutes. Remove the tails and run them under cold water. Dry thoroughly (this step may be done early in the day and the parboiled lobsters cooled and refrigerated until ready to grill).
5. Just before grilling, use a pair of kitchen shears to cut the back of the shell of each tail top to bottom.
6. Remove the butter from the freezer and cut six 1/2" D pieces from the butter log and reserve. Divide the remaining butter into 6 equal portions and tuck pieces of the wasabi butter inside the cut lobster tail shell.
7. Place lobster tails on the grill, cut shell sides up. DO NOT turn lobsters over during grilling.
8. Grill for about 10 minutes depending on the size of the tails. If the shells begin to blacken, move them to a cooler part of the grill.
9. Place the 6 halves of lime on the grill flesh side down and grill for 3 to 5 minutes, or until the flesh begins to caramelize and is browned but not blackened.
10. Take the tails off the heat as soon as the flesh is firm and white with no translucency.
11. Put 1 portion of the reserved wasabi butter on each DINNER PLATE and top the butter with a grilled tail. Add one piece of grilled lime to each plate and sprinkle micro greens over the plate to finish.
12. Serve immediately.
 
SERVES 6