Honeycomb Chocolate Cake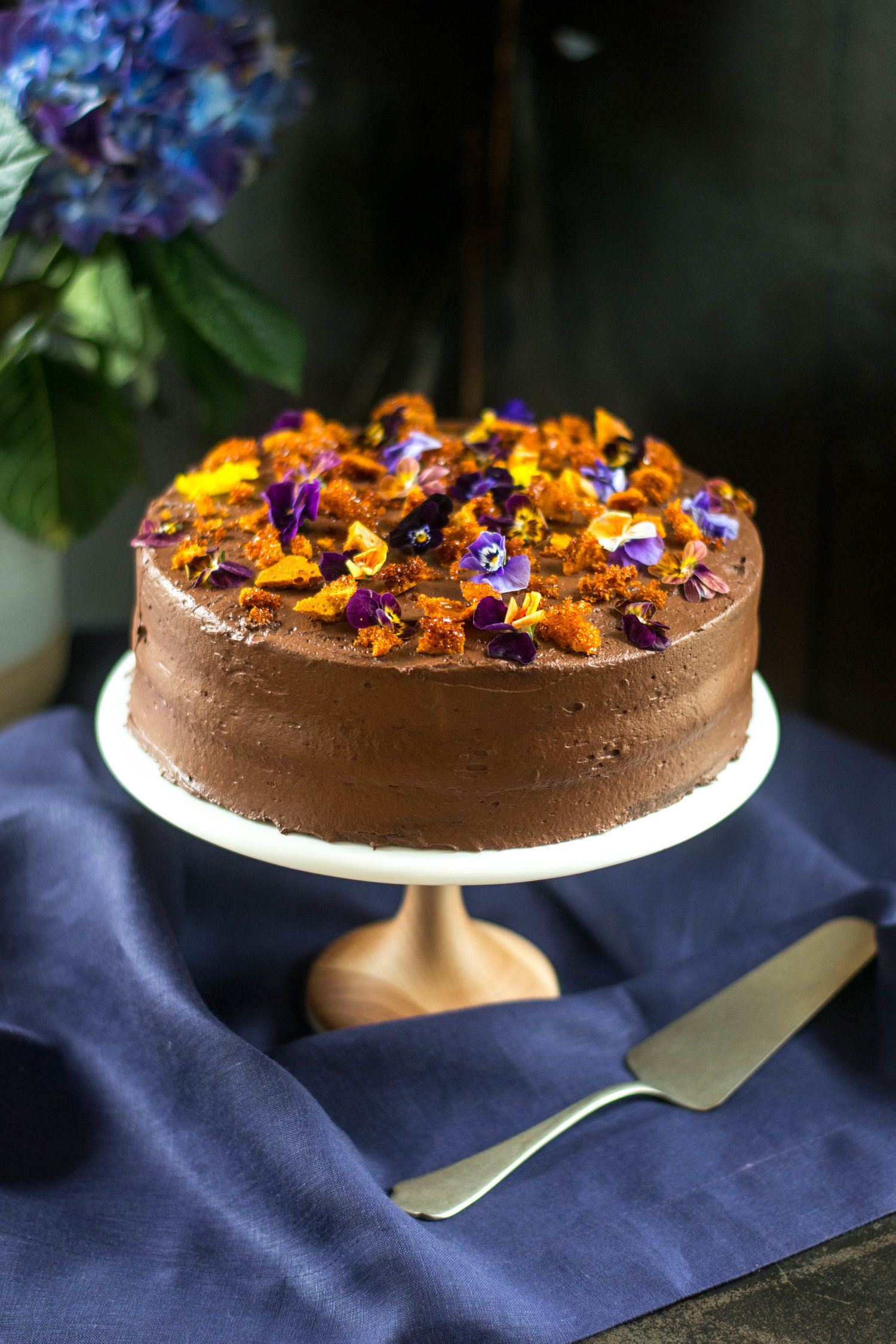 What makes this gorgeous, rich chocolate cake so special? A bit of kitchen chemistry and the heart-shaped, scalloped leaves of edible viola flowers. Known as cinder toffee in England, fairy food in Wisconsin, yellow man in Ireland, and hokey pokey in New Zealand, honeycomb candy is an easy-to-make treat with interesting texture caused by carbon dioxide bubbles getting trapped when baking soda (sodium bicarbonate) is added to hot syrup. Violas begin popping up in early spring and add a charming and colorful bloom to the cake. Even chocolate lovers may be inclined to worry that this cake is just to pretty to cut. After the first crunchy, coffee nuanced bite of cake, however, it is hard to resist. Go ahead--dig in and have a second slice.
INGREDIENTS
For the Cake
2 cups all-purpose flour
2 cups sugar
¾ cup unsweetened dark cocoa powder
2 teaspoons baking powder
1½ teaspoons baking soda
1 teaspoon kosher salt
1 teaspoon espresso powder
1 cup buttermilk
½ cup coconut oil
2 large eggs
2 teaspoons pure vanilla extract
1 cup boiling water
Non stick baking spray
Edible flowers, optional
For the Frosting
1½ cups European unsalted butter, softened
1 cup unsweetened dark cocoa powder
5 cups confectioners sugar
½ cup whole milk
2 teaspoons pure vanilla extract
½ teaspoon espresso powder
1/4 teaspoon kosher salt
For the Honeycomb
1/2 cup honey
1/2 cup castor sugar
2 tablespoons golden syrup
2 teaspoons baking soda
Non stick baking spray
DIRECTIONS
For the Cake
1. Preheat the oven to 350 degrees F. and prepare two 9" baking pans.
2. In the bowl of an electric stand mixture, add flour, sugar, cocoa, baking powder, baking soda, salt and espresso powder. With the paddle attachment, stir until combined.
3. Add the buttermilk, oil, and vanilla to flour mixture and mix together on medium speed until well combined. Add the eggs one at a time until incorporated. Reduce the speed and carefully and slowly add the boiling water to the cake batter until well combined.
4. Distribute cake batter evenly between the two prepared cake pans. Bake for 30-35 minutes, until a toothpick or cake tester inserted in the center of the chocolate cake comes out clean.
5. Remove cake from the oven, set on a wire baking rack and cool for about 10 minutes before turning it out of the pan onto a plate to cool completely.
6. Frost the cake and sprinkle with chunks of honeycomb and edible flowers.
For the Frosting
1. Cream the cocoa and the butter together in the bowl of an electric stand mixer.
2. Add 1 cup of the sugar to the bowl milk to cocoa mixture by adding 1 cup of sugar followed by about a tablespoon of milk. After each addition has been combined, turn mixer onto a high speed for about a minute. Repeat until all sugar and milk have been added.
3. Add the vanilla extract and espresso powder and mix until incorporated.
4. If frosting appears too dry, add more milk, a tablespoon at a time until it reaches the right consistency. If it appears to wet and does not hold its form, add more confectioner's sugar, a tablespoon at a time until it reaches the right consistency.
For the Honeycomb
1. Place a 2.75 QUART POT over medium heat and attach a candy thermometer to the side of the pan. Spray a square or round 8" baking pan with the non-stick spray, line with parchment paper, and set aside.
2. Add the honey, sugar, and syrup to the pot and stir until the sugar is dissolved. Using a pastry brush dipped in water, brush down the sides of the pan to clean off any sugar crystal residuals.
3. Turn the heat to high and boil (without stirring) until a candy thermometer reaches 300 degrees F. (hard crack stage, about 5 to 7 minutes). Keep constant eye on the temperature.
4. Remove from the stove and let the bubbles subside for 1 minute. Add the baking soda and stir with a wooden spoon (the mixture will bubble up and become frothy--do not over mix and knock out all the air bubbles).
5. Pour the honeycomb mixture into the prepared bowl. The less it is moved, the less likely it is to knock out the air bubbles) and set aside for 3 hours, or until completely hardened.
6. Turn the honeycomb onto a cutting board and whack it to break it up into desired size pieces.
SERVES 8
Kitchen Notes
European butter has a higher fat content and makes for a richer and creamier frosting. However, ordinary unsalted butter may be substituted. Make the honeycomb first as it takes 3 hours to harden. Add chocolate covered coffee beans to the top for added zip. The honeycomb will remain fresh for 3 days stored in an airtight container. In spring, pick the violas or other edible flowers from the garden.