Kale Caesar Salad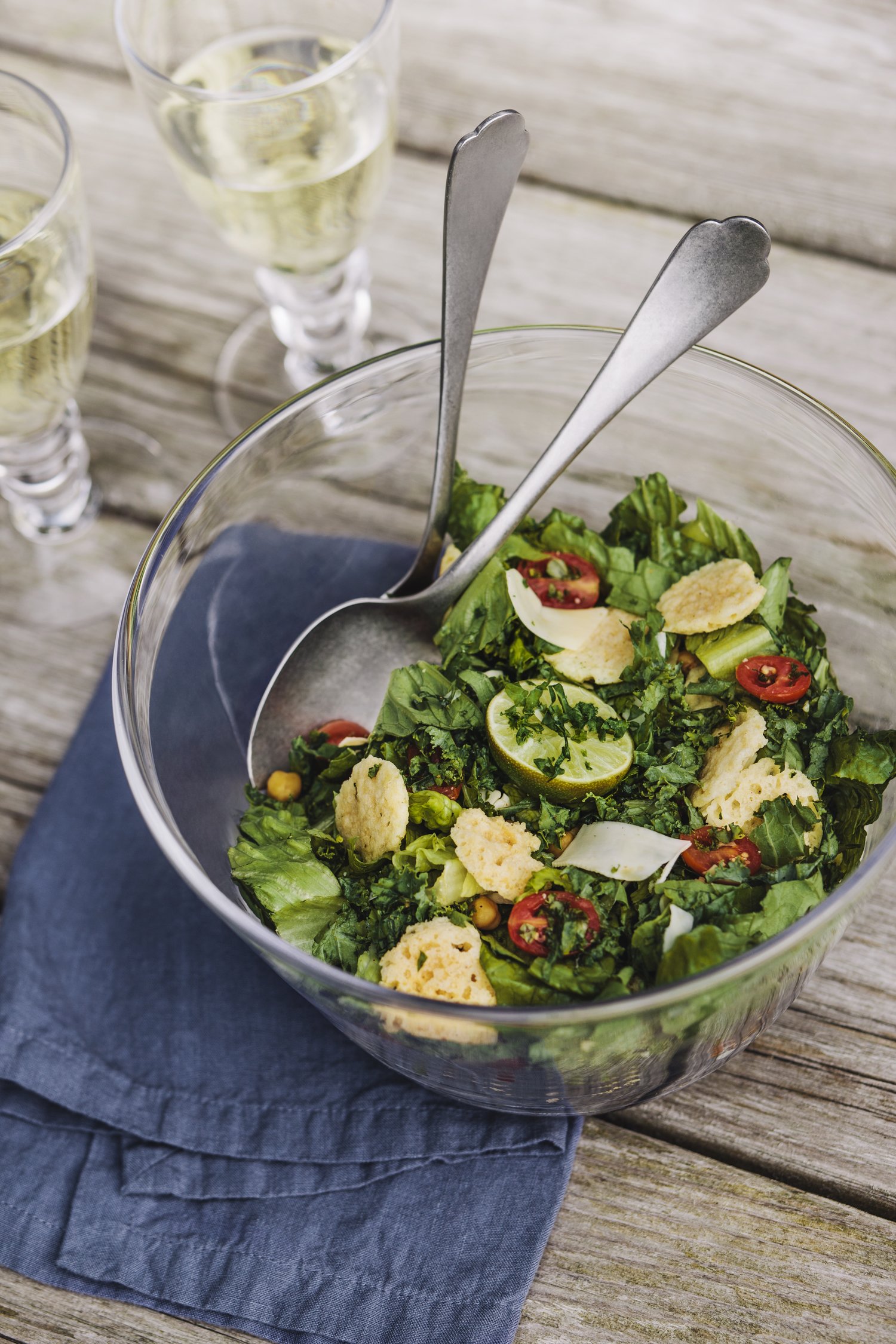 Ten years ago, kale was a leafy green few people considered family friendly. A decade later, it is a new superfood. Recently, sweetgreen, a fast food salad joint, opened several locations in the Boston area. One of the most popular menu items is their kale caesar salad. Delicious and healthy, each salad costs about $9. While generous in size, it would be nearly a fiscal deterrent to feed this to a family on a regular basis. So, with a whole lot of inspiration and a bit of improvisation, this kale caesar made it to Weston Table's recipe collection. Parmesan crisps replace the traditional caesar croutons. Add a bit of roast chicken, or a several pre-cooked shrimp, and this salad is a nutritious, protein packed weeknight meal that can be assembled in under 15 minutes.
Kitchen Notes
Prepared Parmesan crisps are usually available in the cheese department of most supermarkets. Any type of leftover, boneless, skinless chicken is great.
Ingredients
1 large clove of garlic, peeled and halved
1/2 cup olive oil
8 ounces Parmesan Reggiano cheese, coarsely shredded
3 cups curly kale, chopped
3 cups romaine, chopped
1/2 cup garbanzo beans
1 avocado, cut into 1/2" cubes
24 tiny tomatoes, halved
5 anchovy filets, mashed with a mortar & pestle
3 drops Worcestershire sauce
1 1/2 teaspoons kosher salt
1/4 teaspoon dry mustard
1/2 teaspoon freshly ground black pepper
3 tablespoons red wine vinegar
1 tablespoon Greek yogurt
1 egg
1 lime, halved
Directions
1. Put the garlic in the olive oil and let sit as long as possible, up to 48 hours, but at least an hour (or use bottled garlic flavored oil).
2. Preheat the oven to 350 degrees F.
3. On a half sheet baking tray lined with a Silpat or parchment paper, sprinkle one tablespoon of cheese and use fingers to make a circle (more or less). There should be air holes that look like a lacy pattern when it spreads. Do not pack cheese into a ball.
4. Place the baking tray in the oven and cook for 5 minutes, or until the cheese begins to melt and each cheese disc looks like lace curtains.
5. Remove from the oven and let cool completely. The parmesan will continue cooking and will harden as it cools.
6. Put the kale and romaine in a LARGE SERVING BOWL and toss to combine.
7. Add the garbanzo beans, avocado, and tomatoes to the greens.
8. In a small glass bowl, whisk together the mashed anchovies, Worcestershire sauce, salt, dry mustard, pepper, red wine vinegar, and yogurt. Slowly whisk 6 tablespoons of the garlic olive oil into the dressing until it emulsifies.
9. Crack the egg and whisk into the dressing. Pour over the salad greens.
10. Squeeze both halves of the lime over the salad.
11. Finish by breaking the Parmesan crisps into bite sized pieces and sprinkle them over the salad. Gently toss to combine all ingredients and serve immediately.
SERVES 4