Pig at Combe Nut Loaf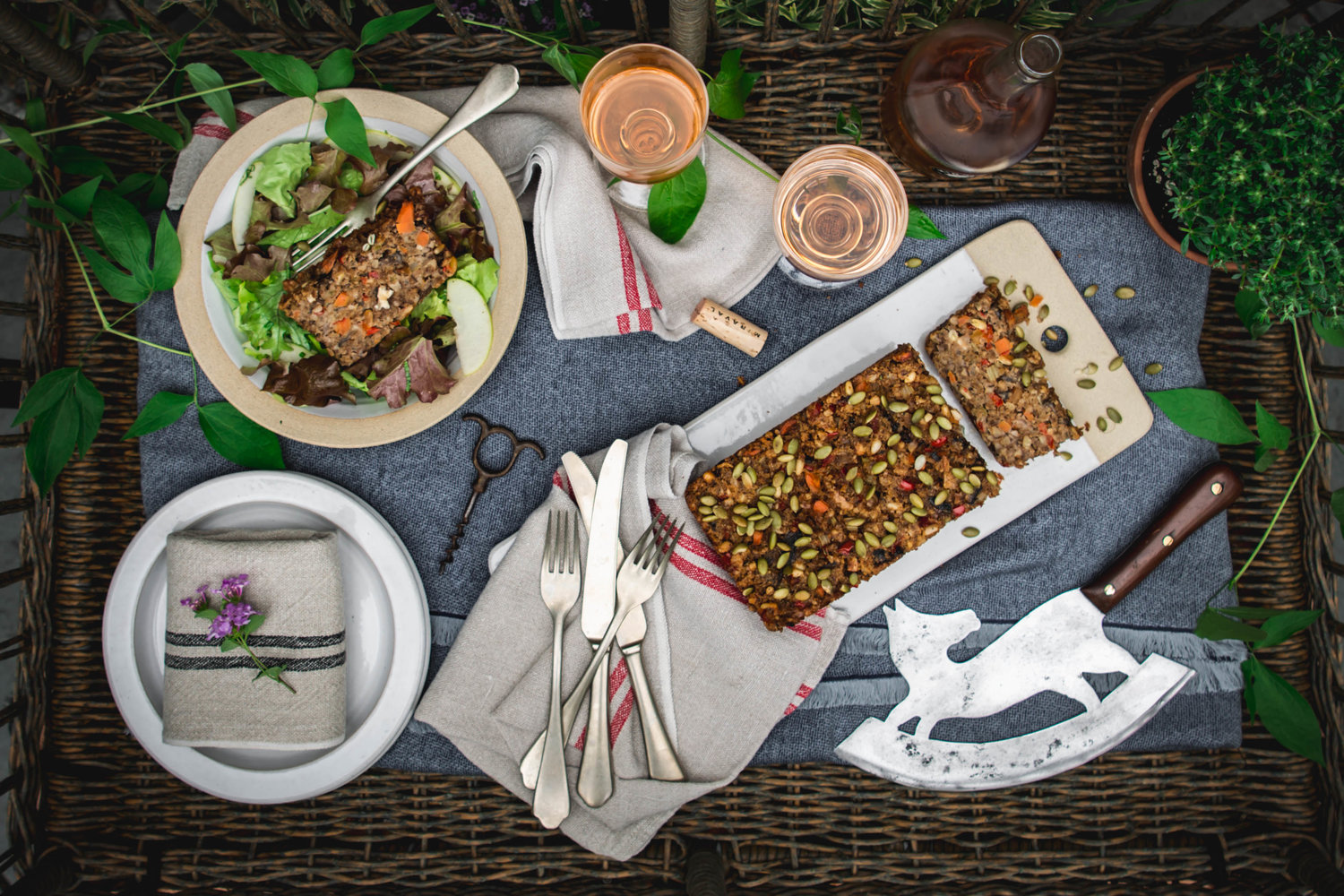 Search the internet for "Nut Loaf" and some disparaging references to Hippy food, 1970's potlucks, and general distaste for pre 21st century English cooking will most definitely pop up. None of those authors, however, have tasted the classic Pig at Combe Sunday sell out brunch menu option. This plate appeals to both climate change advocates and beast eating carnivores (best not to admit purely vegetarian friendly before dinner). Toothy and earthy and soul satisfying, this is a make-in-advance recipe worthy of Sunday suppers, Saturday night gatherings, and holiday feasting.
INGREDIENTS
2 tablespoons unsalted butter
1 large onion, finely chopped
100 grams (3 ounces) mushrooms, brushed clean & diced
2 large carrots, peeled & grated
2 ribs celery, chopped
1 red pepper, diced
5 large eggs, beaten
80 grams walnuts, roughly chopped
40 grams pine nuts
180 grams breadcrumbs
Sea salt and freshly ground black pepper
Pumpkin seeds
DIRECTIONS
1. Preheat oven to 350 degrees F. and line a LOAF PAN with parchment paper.
2. Gently fry the diced onion, mushrooms, celery, carrots and pepper in butter until softened. Let cool 5 minutes before proceeding.
3. Add the beaten eggs, chopped walnuts, pine nuts and breadcrumbs. Season with salt and pepper.
4. Scoop the mixture into the prepared LOAF PAN, pressing down into the corners and smoothing out the top. Scatter over some pumpkin seeds, if you like. Place in oven and roast for 1 hour (40 minutes if using convection), checking and covering the top after 30 minutes if the loaf looks like it is browning too much.
5. Leave to set for at least 10 minutes before taking it out of the loaf pan and slicing.
SERVES 8
KITCHEN NOTES
Any mushrooms may be used. Spring morels make the nut loaf a forest tasting feast. Summer's mildly pepper, distinct apricot aroma chanterelles border on divine intervention. And fall's plethora of rich, buttery flavored shitake mushrooms make for a meaty tasting Thanksgiving vegetarian entree.