Pumpkin Spice Tart with Maple Whipped Cream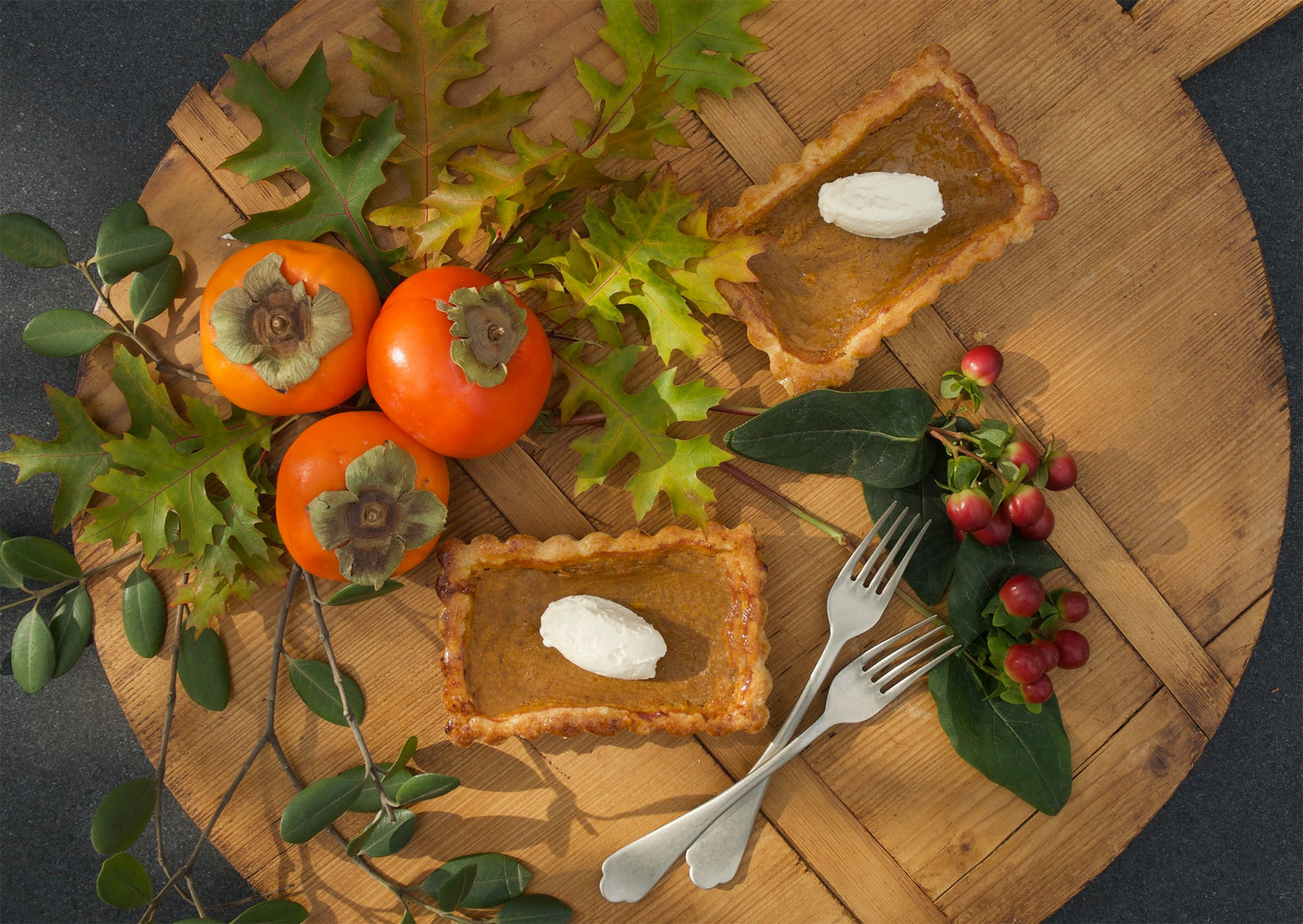 Pumpkin Spice Tart
with Maple Whipped Cream
Chemists and anthropologic scientists study the American obsession with pumpkin spice. It turns out that there is a complex physiological and emotional response to certain smells and tastes that takes both branches of science to fully comprehend. First, the science behind aroma explains the important relationship between food and taste. Second, nostalgia and the association of pumpkin pie with America's beloved Thanksgiving traditions help clarify the emotional response to the complex sweet savory combination of roasted squash, cinnamon, cloves, nutmeg, ginger, and allspice. Turns out it is fairly simple science that explains why nearly every American family serves pumpkin pie during the traditional celebration commemorating the Pilgrims' first harvest in the New World. In 1621, fifty surviving Mayflower colonists feasted for three days alongside ninety native Wampanoag Indians and the menu most definitely included pumpkin pie. During the 16th century, the first explorers returned to Europe with stores of squash, including pumpkin, and the English quickly added squash to their centuries old pie-making culture. By the time America's earliest colonists arrived at Plymouth Plantation it can be safely assumed that at least some of them had tasted and baked a custardy, albeit blander and crustless, version of the modern day pumpkin pie. This version is velvety with all the olfactory stimulating spices characteristic of pleasant remembrances of Thanksgiving dinners surrounded by those we love most in the world.
INGREDIENTS
For the Filling
1 (15 ounce) can pumpkin
1 1/2 cups heavy cream
1/4 cup dark brown sugar, packed
1/2 cup white sugar
2 tablespoons maple syrup
1/2 teaspoon kosher salt
1/2 teaspoon cinnamon
1/2 teaspoon ground ginger
1/2 teaspoon nutmeg, freshly grated
1/4 teaspoon ground cloves
1/4 teaspoon ground allspice
2 large eggs, lightly beaten
1 egg yolk, beaten with 1 teaspoon water
Christopher Kimball's Foolproof Dough
(enough for two crusts)
2 1/2 cups all-purpose flour
1 teaspoon kosher salt
2 tablespoons sugar
12 tablespoons cold unsalted butter (1 1/2 sticks), cut into 1/4-inch slices
1/2 cup chilled solid vegetable shortening, cut into 4 pieces
1/4 cup vodka, cold
1/4 cup cold water
for the MAPLE WHIPPED CREAM
1 pint heavy whipping cream
1/4 cup maple syrup
DIRECTIONS
For the Filling
1. Preheat oven to 425 degrees F.
2. In the bowl of an electric mixer, combine the pumpkin, heavy cream, sugars, maple syrup, salt, and spices.
3. In a separate bowl, whisk two eggs then add to the pumpkin mixture until smooth.
For the Tart Shells
1. Process 1 1/2 cups flour, salt and sugar in food processor until combined, about 2 one-second pulses. Add butter and shortening and process until homogeneous dough just starts to collect in uneven clumps, about 15 seconds (dough will resemble cottage cheese curds, and there should be no uncoated flour). Scrape bowl with rubber spatula and redistribute dough evenly around processor blade. Add remaining cup flour and pulse until mixture is evenly distributed around bowl and mass of dough has been broken up, 4 to 6 quick pulses. Empty mixture into medium bowl.
2. Sprinkle vodka and water over mixture. With rubber spatula, use folding motion to mix, pressing down on dough until dough is slightly tacky and sticks together. Divide dough into two even balls and flatten each into 4-inch disk. Wrap each in plastic wrap and refrigerate at least 45 minutes or up until 2 days.
3. On a lightly floured counter, roll out one disk into a 1/8" thick, 17" L x 6.5" W rectangle.
4. Transfer the tart crust to a heavy gauged tin steel tart pan with removable bottom (or divide equally among the individual tart pans), leaving about an extra half inch hanging over the edges if making one large tart (1/4" if making individual tarts). Tuck the overhanging dough underneath itself to form a thick edge that is even with the rim.
5. Place the prepared tart pan(s) in the freezer for 30 minutes.
TART ASSEMBLY
1. Remove the tart crust(s )from the freezer and place it on a half sheet baking pan. Brush the edges of the crust with egg wash and pour the filling into the prepared crust.
2. Place the tart on the lowest oven rack and bake for 15 minutes, then reduce the oven heat to 350 degrees F and bake 45 minutes longer, or until a skewer comes out clean.
3. Remove the tart(s) from the oven and put on a cooling rack until the tart(s) may be removed from the pan safely.
4. Serve with a dollop of maple whipped cream.
for the Maple Whipped Cream
1. Pour the cream into the bowl of an electric mixer and mix on medium speed until almost thick.
2. Add the maple syrup and mix just until the cream is whipped.
MAKES 1 LARGE PIE OR 8 INDIVIDUAL TARTS
Kitchen Notes
WESTON TABLE BARREL-AGED BOURBON & RYE MAPLE SYRUP makes for an especially divine tart & whipped cream. The recipe below is easily adapted to make 8 individual tartlets. Simply divide the dough into 8 portions and press into the tartlet pans. Any pie crust works well, the America's Test Kitchen pie dough, however, is simple, reliable, and easily removable from tiny tart pans.