Yves Saint Laurent's Marrakech Private House & Garden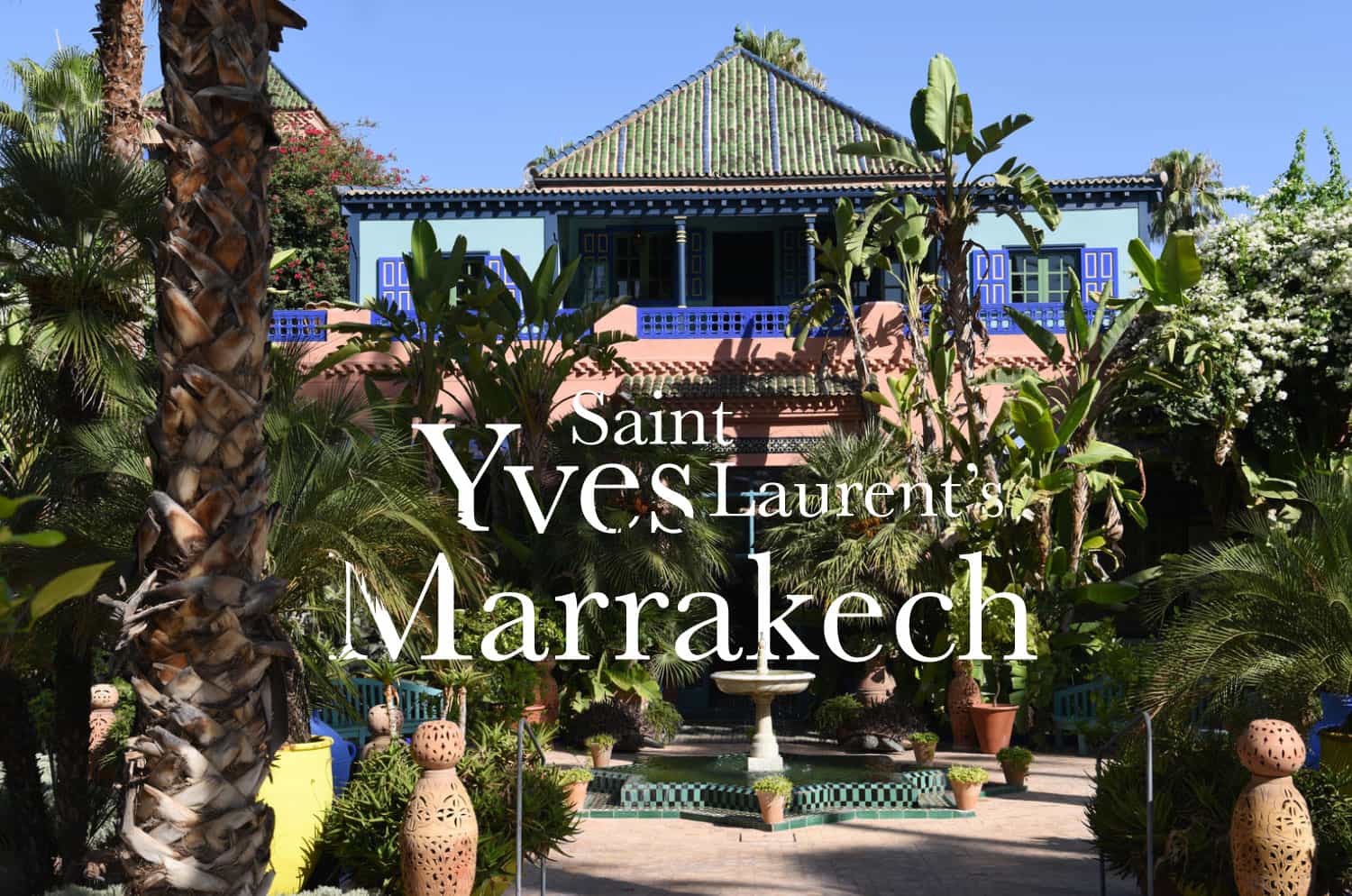 Yves Saint Laurent's Villa Oasis
During the hedonistic 1960's when rock stars flooded the Pink City, Algerian born fashion designer, Yves Saint Laurent, visited Marrakech for the first time with his partner, Pierre Bergé. Intrigued by the intoxicating Matisse-like palette of the Jardin Majorelle, the couple saved the gardens from demolition. They purchased the property in 1980 and began carefully restoring the run down gardens to their former glory. Always true to Jacque Majorelle's original vision, the gardens are a collection of native and exotic botanicals with leaves and flowers that appear more intense set against accents of bright primary colored tiles, facades, buildings, and furniture. So intense is the African blue sky in the distant Atlas Mountains that Jacques Majorelle voraciously painted with the ultramarine cobalt blue that is forever associated with this garden masterpiece that seduced one of the world's greatest couturiers.
Jardin Marjorelle
Nearly a century ago, Jacque Majorelle, a French Orientalist painter, transformed his artistic canvas aesthetic into a living portrait of an African Garden of Eden. A Moroccan paradise resplendent with exotic botanicals, his trademark palette included splashes of bold colors that intensified the natural foliage in the garden. Majorelle's adventurous spirit and love of nature yielded plant specimens collected from around the world. Coconut trees, cacti, banana trees, bougainvilleas, water lilies, yuccas, jasmines, palm trees and bamboos became the focal points for his impressionist garden. An expensive endeavor and failing health convinced Majorelle to open his gardens to the public in 1947. He hoped the entrance fees would provide sufficient revenues to cover the maintenance of the gardens. Sadly in 1961, however, Jacque Majorelle was hit by a car, his leg amputated, and he returned to his native French home for convalescence. Without his attention, a decade later, the gardens were abandoned and soon a tangled mess at risk of being sold and redeveloped as a hotel property.
During his first journey to Marrakech in 1966, YSL visited the Jardin Majorelle nearly every day. A sanctuary away from the loud snake charmers and monkey handlers competing for tourist dollars in the dusty souks, YSL found refuge in the peaceful gardens where he could roam with little more than song birds and croaking toads for company. Learning of the proposed destruction and redevelopment of the gardens, Yves Saint Laurent and his partner Pierre Bergé purchased the land and immediately began a passionate restoration project that included refurbishing the public areas and creating the adjacent Villa Oasis, their ornate and lavish retreat from Paris.
Inside the house, architectural details including colorful mosaic tiles, a library with floor to ceiling exquisitely hand painted cedarwood panels and ornately carved ceilings, leopard printed sofas, brightly colored patchwork and tasseled chairs, statues, and Moroccan fine art are juxtaposed with a personal items. A collection of CD's, personal photographs of YSL and the friends with whom he shared his life, open books, and YSL sketches make this elegantly designed, superiorly crafted house still feel very much like an adored, warm, and inviting home. While photographing the interiors is strictly prohibited, the immaculate yet "audacious combinations" and "forceful harmonies" grounds reflect Yves Saint Laurent's Moroccan vision so intrinsically intertwined with his couture fashion for which he earned his fame and success as one of the 20th century's greatest couturiers.
"In Morocco, I realised that the range of colours I use was that of the zelliges, zouacs, djellabas and caftans. The boldness seen since then in my work, I owe to this country, to its forceful harmonies, to its audacious combinations, to the fervor of its creativity. This culture became mine, but I wasn't satisfied with absorbing it; I took, transformed and adapted it."
Yves Saint Laurent
Tucked into the courtyard of the public area of the Jardin Majorelle is a small boutique curated by Bernard Sanz. For years responsible for locating, selecting, and at Yves Saint Laurent's request, Mr. Sanz has cultivated local designers and delivered an exquisite range of YSL inspired products including luxurious handmade colorful leather handbags imitating the Moroccan pouf, silk embroidered fine wool shawls, hand hammered silver jewelry, and adorable ultra soft baby slippers embroidered with a tribute to YSL's annual tradition of sending friends and family New Year's love theme postcards.
Beyond the gorgeous craftsmanship of this gift shop is a quiet mission. During the 1980's height of the AIDS epidemic, YSL lost many of his friends. This is a charitable boutique raising money and funneling its profits to fund HIV and AIDs clinics throughout Morocco.
Jardin Marjorelle Boutique
Rue Yves Saint Laurent
Marrakech, Morocco
212 (0) 524-31-30-47
This garden is a momentous task, to which I give myself entirely. It will take my last years from me and I will fall, exhausted, under its branches, after having given it all my love.
Jacques Majorelle
Only the lucky few have a chance to visit YSL's private home & gardens. Private Tours may be arranged wIth the director of the Majorelle Foundation for guests of The Royal Mansour. The YSL & Berber Museums and the public areas of the Jardin Majorelle are worthy excursions in their own right.