The Pig at Combe, Honington, England
Honington, England
Nestled in the Arabian horse studded verdant countryside of Devonshire, England, The Pig at Combe is a rural Elizabethan 3,500 acre topaz walled country manor retreat complete with civilized afternoon tea served by manicured butlers in a room replete with velvet sofas, a roaring fire, gilt mirrors, and a 19th century oil painting of the manor that looks as if it jumped from the pages of Emily Brontës Wuthering Heights.
With all the the amenities and exceedingly more charm than most five star hotels, this country estate surrounded by picture perfect English countryside makes the 1.5 hour train journey from London the perfect urbanite escape.
Tucked into a patchwork of hills and down a winding country lane surrounded by Robin Hood like woodlands, the first acquaintance with The Pig at Comb estate provides a glimpse into England's history of country house escapes for the elite of centuries ago. Juxtaposed British eclecticism inside the house and sublime horse-studded rolling hills outside the house are a modern toast to benefits of taking a time out in the countryside.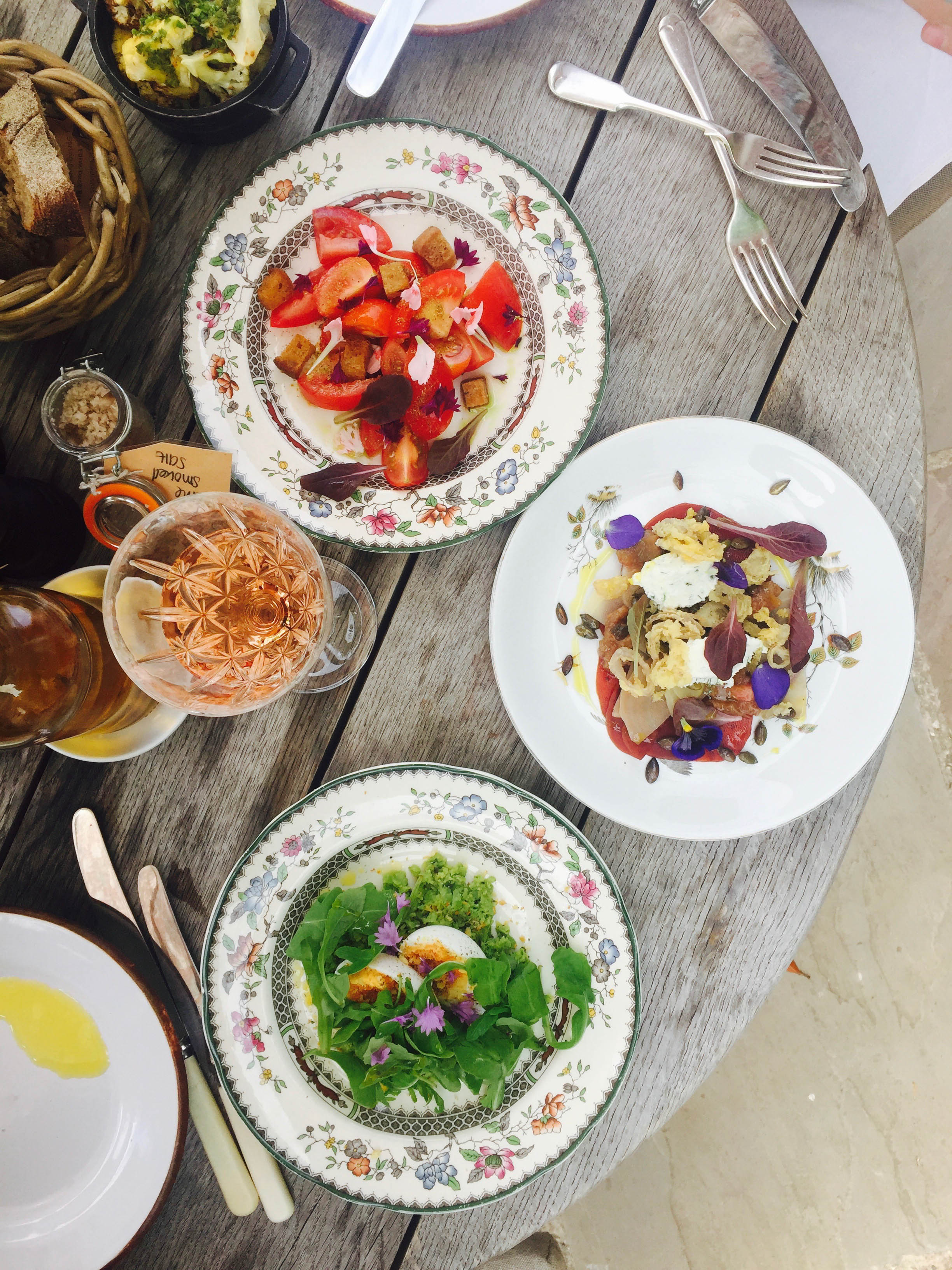 A menu of "mostly picked this morning", "piggy bites", and large plates sourced in the nearby Otter Valley and Lyme Bay, provides a tasting of what is grown and sourced within 25 miles of the property.
A working range, the original manor kitchen with its drying herbs, and gorgeous light filled space make this an enchanting spot for gathering.
A rustic lunch is served indoors and out in this open-kitchen dining area complete with wood-fired pizzas and a menu designed to inspire sharing.
The manor's original restored wine vaults offer a particularly romantic opportunity for fine dining--sommelier included.
This quintessentially English nut loaf appeals to both climate change advocates and beast eating carnivores (best not to admit purely vegetarian friendly before dinner).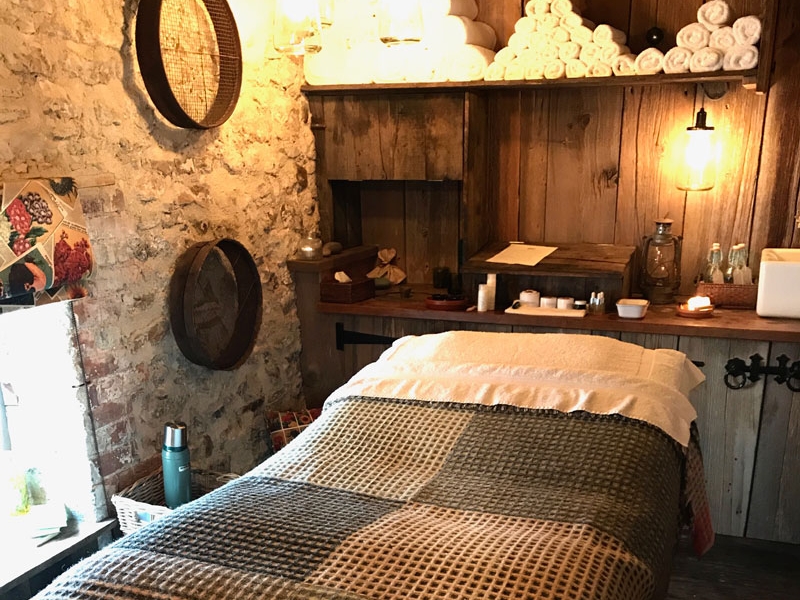 Wander down winding pea stone paths, through the walled infusion garden, and find two Potting Sheds transformed into treatment rooms offering a range of Piggy massages.
You may encounter cows, you most certainly will encounter picturesque landscapes and the charming 11th century Gittisham village replete with thatched roofs a medieval church, and lost in time enchantment.
Relax in one of the two manor living rooms while nibbling a slice of homemade cake and sipping tea, bubbly, or an English gentleman inspired toddy.
Kitchen Garden Tour
Within a grow it, catch it, forage it, or farm it within 25 miles philosophy, The Pig at Combe demonstrates how commitment to sustainability and food to fork is truly within reach. With woodlands filled with birds and beast, and the sea eight miles away, the menus, right down to the addictive house smoked sea salt, provide culinary offerings in line with the finest dining experiences anywhere in the world. Supplemented with local English cheeses and the bounty of the manor's extensive kitchen gardens and mushroom house, eating at the Pig may be, well, quite piggy.
Harvesting 365 days a year, the gardeners and chefs collaborate to develop menus showcasing seasonal bounty. Any excess fruits and vegetables are pureed, bottled, or infused behind the bar.
More than 2,500 species of edible plants grow on the property. From nightshades, mushrooms, beets, radishes, leeks, onions, herbs, and cruciferous vegetables to melons, quince, rhubarb, mulberries, raspberries, currents, strawberries, and lemon trees, a seasonal cornucopia grows in the Pig gardens, conservatories, and sheds. EDIBLE FLOWERS, marigolds, blue and white cornflowers, and borage blossoms are plucked for dinner plates, cocktails and frozen ice cubes.
Outside the two treatment rooms—which have been converted from an old potting shed—is a walled infusion garden where guests can choose from a menu of fresh infusions such as nettle and lemon balm, rosemary and ginger, lemon verbena or sage and honey.
Tucked next to one of the kitchen garden's masonry walls is a quail coop--where there are ground nesting game birds, there are eggs. These tiny rich yolked speckled delights provide the manor with their signature afternoon bar snack--PEEL & EAT QUAIL EGGS.
Beneath the established espaliered quince, apple, and plum trees it is possible, tucked away from the hustle and bustle of modern life, to imagine a simpler life in which everything you need is luxuriously found in your own backyard.
Bring the English Countryside Home